Dunbritton's Wider Action
Our Communities are important to us
We continue to engage with Community Links Scotland (CLS) to help us coordinate and deliver our projects.
The Association received £47k for a Covid crisis grant and used this money to help the communities in our areas of operation. The Association purchased 417 vouchers for Asda supermarket at a value of £45 for families that were struggling financially to purchase groceries. The voucher could be used within the shop or online with home delivery. Due to the Association's Charitable status, Asda kindly gave the Association a discount of 4% which enabled us to provide additional families much-needed support.
A financial donation of £5,000 was provided to each of the Foodbanks within our area of operation, Food for Thought in Dumbarton and Helensburgh & Lomond Foodbank. Due to the uncertainty with various sectors, unemployment looks likely to increase, therefore, the Foodbanks will be supporting larger numbers of people.
The Association was delighted to provide 979 hot meals to residents and key workers within care homes, residential homes and supported living accommodation.
Fuel payments of £95 were provided to 51 of our tenants who are not connected to the gas network.
The Association purchased various items to create an activity pack to support the mental health and wellbeing of various age groups of children residing in our properties. Each of the 3 age groups – 0-4, 5-8 and 8-12 included age-appropriate items to stimulate creative and imaginative play. 328 activity packs were delivered to the children of tenants throughout our area of operation and 8 packs were donated to the children residing in Women's Aid, a facility owned by the Association.
The response from all the Association's tenants and all the residents and key workers who benefited from the grant funding has been exceptional. Being able to help the Association's most vulnerable tenants during one of the most financially stressful times has provided the staff with pride. We have heard from tenants the impact the additional support has had on their lives which has given all staff motivation to continue their support.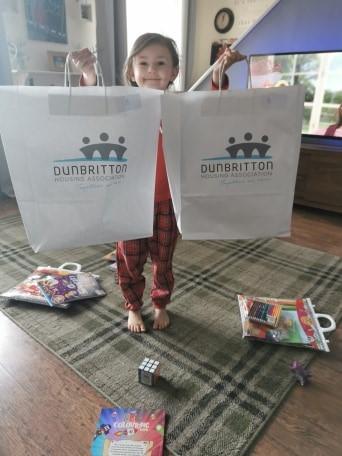 Harbour Heritage Project
· During 2020/21 our Heritage project has continued with the successful appointment of Alan Potter (artist) to design a viewing frame, benches, slabs and number plaques that will incorporate the History of the local area.
· RIG Arts were appointed in January 2020 and engagement work commenced late February / early March. All schools were contacted with dates arranged for art sessions, all schools had booked their visits with Denny Tank and a date was agreed with the residents working group for May. The impact of Covid-19 has resulted in all works being postponed on the project until restrictions have been lifted.
It is evident that whilst last year was certainly very challenging it has also highlighted how good partnership and team working can come together to overcome the challenges and develop new strengths for the organisation and its team of dedicated Board and staff members .
It is evident that whilst last year was certainly very challenging it has also highlighted how good partnership and team working can come to gether to overcome the challenges and develop new striengths for the orgainsation and its team of deicated Board and staff memebers .